Longmont Potion Castle: An Enigma, Wrapped Inside a Riddle, Trapped in a Telephone Call
Starting in the mid to late 80s, a dude from Denver, Colorado picked up the telephone, hit record on his parents' answering machine and dialed a number. This unknowingly launched the career of comedic persona non grata and touch-tone folk hero Longmont Potion Castle aka LPC.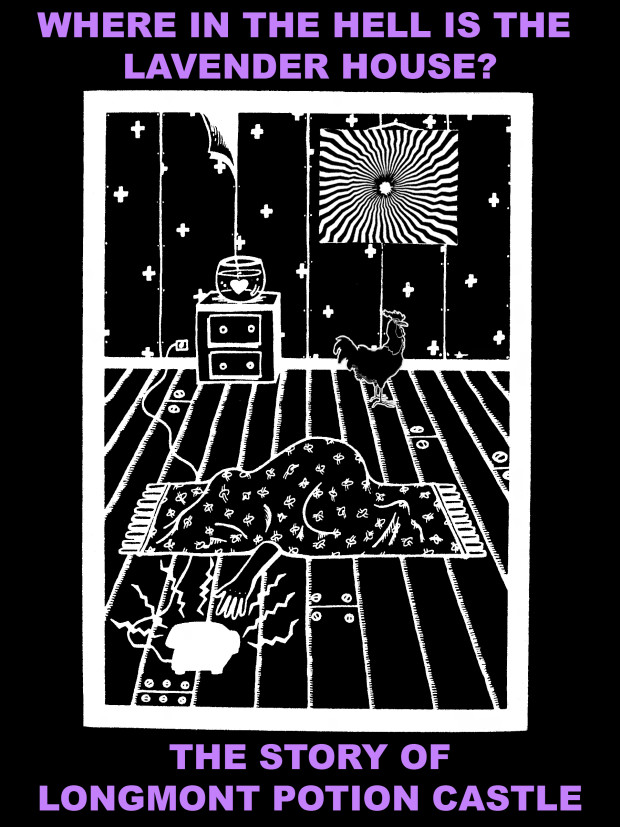 Check out our little teaser!
Hi – our names are David Hall and Vivek Venkatesh. We are a duo of Canadian filmmakers who have worked together for over five years and co-produced music festivals, documentaries and live productions in Canada, the United States and Europe. David works under the moniker Uneasy Sleeper while Vivek runs Dystopia Productions as well as the Grimposium festival and conference series. Here is a trailer for our latest production, Blekkmetal, which saw a  limited release in 2016:
This past year, when both Rolling Stone and Noisey published feature stories and interviews with the legendary surrealist anonymous prank-caller Longmont Potion Castle, we knew it was time to act before someone else did.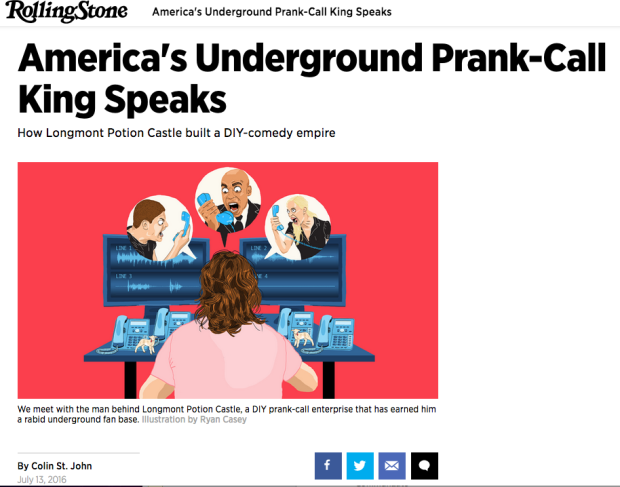 Check out an exclusive animation of the "Fog Machine" call:
So … we reached out to Longmont Potion Castle himself and over a series of conversations conceived the idea for a hybrid biographical and investigative documentary. The title of our film is "Where in the hell is the Lavender House?" and it will be a testament to Longmont Potion Castle's art, an exposé on his fans and the people he calls, and a verité exploration of who Longmont Potion Castle is, and what it is he does.
We are excited to be collaborating with executive producer, Rainn Wilson – a longtime fan of LPC!.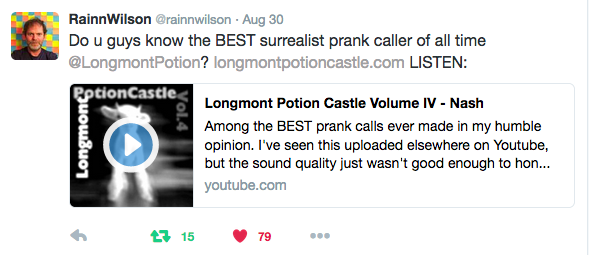 By interviewing Longmont Potion Castle fans, exploring the history of prank phone calls themselves, the tape trading culture that Longmont Potion Castle grew out of, and getting the word from the proverbial 'man on the street, this film will explore Longmont's infamy, and get to the bottom of who the man behind the phone really is.
We're going to travel to Los Angeles and Denver to get to the bottom of the rumours that surround his identity; and, of course, we will meet the real Longmont Potion Castle to ask him the questions that his legion of fans have been asking themselves and each other for years: Who the hell is Longmont Potion Castle? A delinquent with too much time on his hands?  A comedic genius? A phone call folk hero? A celebrity assuming a fake identity? Is he just one guy or a collective of pranksters?  Where does he get the phone numbers he calls? How does he get celebrities' numbers and what is his obsession with whips, Orange Julius, helium and lambs?  Perhaps the ultimate prank is that Longmont Potion Castle's rabid fans are just as much in the dark as to his identity as the people he calls and unleashes holy, wonderful and absurdist hell upon.
Our Fundraising Goals
We wish to raise $100,000 to cover the production of this movie. That money will cover: travel and boarding costs for the filmmakers and their crew in Denver and Los Angeles over a period of 6 weeks ($25,000), film equipment rental including cameras, microphones, and stands ($15,000), salaries for our film crew for 6 weeks of shooting ($20,000), technical and post production costs ($20,000), insurance costs ($10,000), as well as merchandise production and associated shipping costs ($10,000). All the money we raise is going to ensure this film makes in onto the big screen.  If we cannot raise all the money , we will be putting every cent into making the documentary with the funds we receive. This is our commitment as filmmakers as it is a commitment on the part of Longmont Potion Castle himself!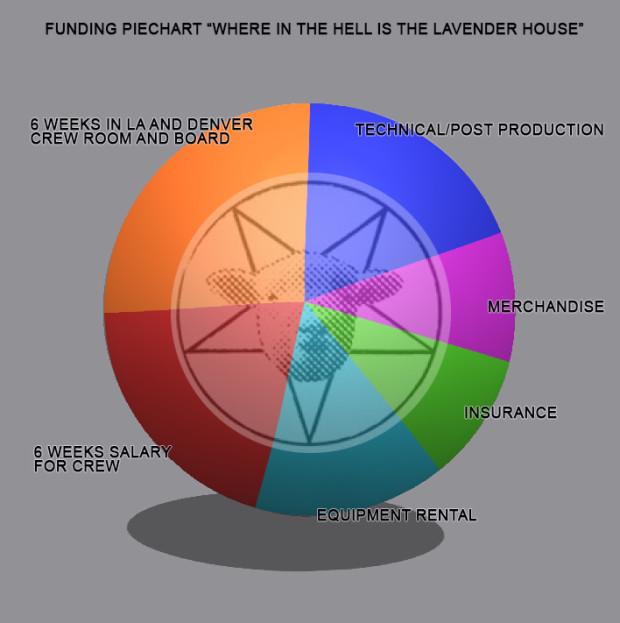 Perks!!!
Your contributions are essential to help us make this film. And we have a host of incremental perks – created and curated specifically for this film –  that will please Longmont Potion Castle fans. In fact, why don't you hear it in Longmont Potion Castle's own words – as they appear in our campaign video!
"Firstly, anyone contributing will be mentioned in the credits of the film.
Contributions of $25 and over will get you a digital copy of the film.
$45 will get you a DVD or blu-ray of the film with special features – uncut interviews, behind the scenes featurettes, and archival materials.
$55 and over will get you all of the above as well an exclusive LPC digital EP containing five unreleased phone calls from my vault and a digital download of the soundtrack to the film (which I am writing, by the way).
70$ and up will get you all the good jazz plus a physical copy of the soundtrack, and  a thank you call from me.
300 blu-rays and 300 DVDs will be specially available for contributions of $100 or more, along with a limited edition T-Shirt that I am designing especially for the film. The shirt will only be made available through this perk option.
For every contribution of $150 and over, you get all of the above (including the t-shirt) and I will prank-call someone of your choice and send you the track.
$200 and over will get you all of the above as well as a personally dedicated and signed blu-ray or DVD of the film, and a walk-through on Skype of my recording studio.
For those die-hard fans who contribute $350 and more, you'll get all of the above, and we will arrange to have you interviewed and include footage of the same in the documentary; in addition, you'll get a 15 minute call to chat with me.
For anyone crazy enough to help us out with $1000 or more, you'll get the whole ball of wax we mentioned, plus VIP access to the premiere of the film – sorry partners you gotta pay your own way to the location of the premiere – we'll let you know where it is! "
Join us on this exciting journey!